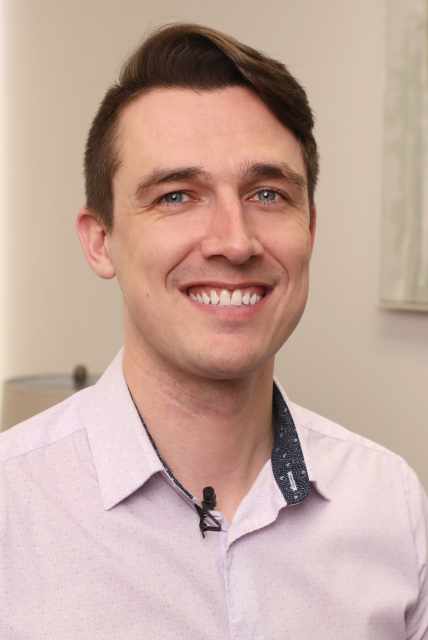 Aaron Telnes, M.C.
Registered Psychologist
Insomnia and Sleep Disorders
Biography
Aaron strives to help clients identify and overcome their mental health concerns through a strength-based approach, with a focus on promoting self-awareness, developing coping skills, strategic problem-solving, and identifying and implementing attainable goals. Aaron's past experience as a Crisis Counsellor allows him to be comfortable and confident in navigating the challenging and uncomfortable situations that may present themselves through the course of counselling. His therapeutic outlook involves building resiliency, overcoming obstacles, seeing the learning opportunity in everything, and helping his clients build a happy and successful life.
Aaron's passion is supporting clients who struggle with anxiety, depression, sleep issues (insomnia), and career choice/transitions. In addition, he actively works with clients navigating interpersonal conflicts, communication issues, and life choices/transitions. His therapeutic style blends cognitive-behavioural, solution-focused, and mindfulness-based strategies.
Aaron is a Registered Psychologist with the College of Alberta Psychologists and a member of the Psychologists Association of Alberta. He completed a Bachelor of Arts, majoring in Psychology, from the University of Calgary. While completing his Bachelor of Arts degree, Aaron completed a research study investigating the effectiveness of a short-term problem-solving intervention on performance anxiety. He also holds a Master of Counselling degree from the University of Calgary. Throughout the completion of his Master of Counselling, Aaron focused his research in the areas of social anxiety and improving mental health at the individual and organizational levels.
One of the most challenging parts of counselling is initially asking for help. Please know that Aaron is happy to connect and answer any questions you might have about his services, therapeutic style, and process.
Aaron loves to eat! Food might be one of his all time favourite things. He loves to sample all different cuisines and at times may try to even replicate them in his own kitchen. He also loves to explore different meditative and restorative practices, like yoga, float therapy, hot and cold therapies (sauna, hot springs, and even cold plunges). Aaron also really enjoys the outdoors and will take any chance he can get to hike and ski!
Aaron also offers career counselling through our Calgary Career Counselling practice (click here to visit).